Your new garage gates: safe, comfortable and environmentally friendly! Quality at a low price - our action - is the way to the beautiful appearance of your home.
You can find out the price in the customer service center of the online store:
E-mail: info@fores.lv, phone: +371 25438606
Download Sale Hormann catalog 2023 in PDF format
Hormann is the world's leading manufacturer of garage doors, doors and access control systems. With over 80 years of experience in the production of high quality products, Hormann has become a renowned brand for its reliability and innovative technology.
We are the official distributor of Hoermann products and offer a wide range of products that meet the highest quality and safety standards. Our products include garage doors, industrial doors, home and office doors, and access control systems.
Hormann is constantly improving its products using the latest technology. For example, we offer garage doors with automatic opening that can be controlled via a mobile application. We also offer doors with "silent closing" technology, which close softly and silently.
We guarantee the high quality of our products and provide a guarantee for all our Hoermann products. In addition, we also offer installation and configuration services for our products to ensure maximum comfort and safety for our customers.
If you want to provide security and comfort for your home or office, please contact us. We'll help you find the perfect Hormann product that fits your needs and budget. Our products are perfect for any home, apartment or office. Contact us today and enjoy the high quality and innovative technology of Hormann products.
Discover the many benefits
Sectional doors open vertically and in the open position are located under the ceiling, saving usable space. This fundamental design feature provides maximum space both inside and in front of the garage. Sectional garage doors can be installed in any garage opening, providing 14 cm more passage width than up-and-over doors. Optimum tightness of the sectional door is ensured by strong and weather-resistant seals on all four sides around the perimeter. Garage sectional doors are tested and certified in accordance with the high security requirements of the European standard 13241-1. You can find out if your garage door meets the current EU safety standards with our safety checklist.
Colors
Woodgrain - White RAL 9016
Woodgrain - White aluminum
Woodgrain - Gray aluminum
Woodgrain - Anthracite metallic
Woodgrain - Anthracite gray RAL 7016
Woodgrain - Brown RAL 8028
Decocolor - Golden oak
Decocolor - Dark oak
Decocolor - Night Oak
The Woodgrain surface on M-ribbed doors impresses with its precise saw cut pattern and high strength (picture left in white RAL 9016)
The smooth Planar surface, for L-ribbed doors, in 6 exclusive Hörmann Matt deluxe colors convinces with subtle elegance (left picture in CH 703, Matt deluxe, anthracite metallic)
The painted Decocolor surface captivates with its natural wood effect in 3 decorative surface finishes (fig. left "Golden Oak" decorative finish)
The inner surface of the gate is galvanized and coated with a protective varnish
Dimensions
Width from 2000 mm to 5000 mm, height from 2000 mm to 3000 mm
Description
42mm double thermal insulation panels for high thermal insulation, good stability and smooth running 42mm double thermal insulation panels for high thermal insulation, good stability and smooth running
On the outside, a finely structured Woodgrain surface, 3 colors to choose from or a UV-resistant Decocolor surface in 2 versions, on the inside, the surface is galvanized and varnished.
Optimum protection for years to come thanks to the anti-corrosion plastic guide base
Garage door operators
Only from Hörmann: Reliable anti-pulling protection thanks to mechanical locking in the linkageOnly from Hörmann: Reliable anti-pulling protection thanks to mechanical locking in the linkage
ProMatic drive with modern BiSecur radio system and additional garage ventilation function
Manual control, when using the handle
Garage door operators ProLift 700 4
One easy press on the button of the remote control, and in rain and bad weather you can freely enter your garage without leaving your car. The ability to drive into the garage without stopping at night will give you an additional feeling of comfort and safety. Two elegantly shaped 2-gang controls with chrome-plated key ring.
Garage door operators ProMatic
ProMatic garage door operators have the same reliable and sophisticated technical arsenal as all other Hörmann high-quality operators. This is a guarantee of reliable operation at an attractive price. Is your garage not connected to the power supply? This is no reason to give up the comfort associated with the use of the drive. The ProMatic Akku drive will solve this problem. The battery can be easily transported and has a charging time of several hours - it is especially convenient to recharge it with the optional solar panel. 4-gang hand transmitter HSE 4 BS black structured surface finish, matt, incl. keychain eyelet.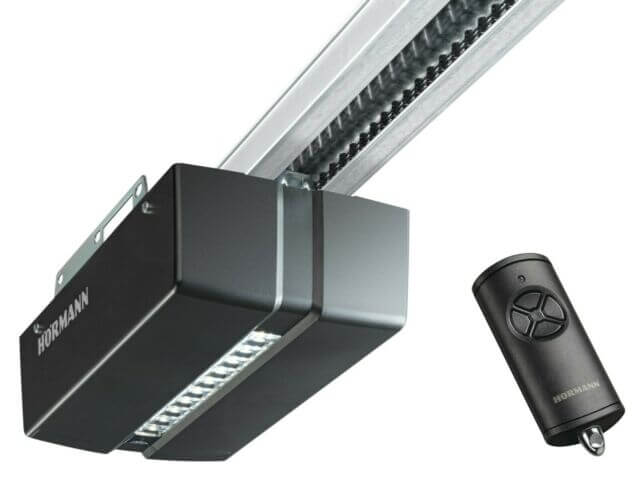 Garage door drive SupraMatic 4
With a modern BiSecur radio control system and additional ventilation by opening the upper section of the gate. Up to 3 or 5 times** brighter LED lighting. With remote control HSE 4 BS with loop for key fob and chrome cap
There are no products to list in this category.